Home Generators 101
Anytime the power goes out it's an inconvenience but it can also cause a lot of damage; it can even be life threatening in some cases.  Some power outages have left homeowners without power for weeks.  Chances are the food in your freezer would have thawed
and spoiled during that time.  And if you have a sump pump, it could fail and flood your basement.  What if you lost power in subzero temperatures?  Your pipes could freeze leaving you exposed to deadly weather conditions and costly repair bills.
Homeowners often take power for granted until they have to live without it for a lengthy period of time.  It's only then that people wish for backup power.  A home generator provides automatic emergency backup power to support your electrical and safety
needs by keeping the power on – when and where you need it, without interruption.  It's installed outside your house and comes on within seconds of a power outage.  Plus home generators run on propane or natural gas, so there's no refueling.
How Home Generators Work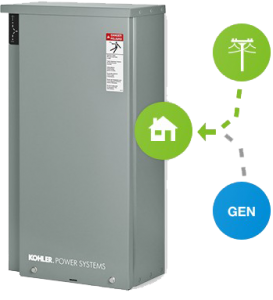 Home generators have an automatic transfer switch (ATS) which monitors the electricity coming from the utility. It's working 24/7 to protect your home.  When the power fails or drops below an acceptable level (brownout), the ATS signals the generator
to start. In seconds, the ATS transfers your power from the utility to the generator. Your generator then supplies your home with electricity until the utility power is restored.  At that time the generator automatically turn off.
Why We Choose Kohler Generators
KOHLER generators are meticulously quality-tested start to finish.
KOHLER generators deliver clean, safe and stable power that meets strict utility requirements.
KOHLER generators have engines built to withstand extreme workloads over many years.
KOHLER's exclusive PowerBoost™ technology provides greater motor-starting capability for large electrical requirements, such as your HVAC equipment, freezers and other appliances.
KOHLER generators respond within 10 seconds from the time the power goes out.
KOHLER sound enclosures keep the operating noise levels low.
KOHLER generators perform a self-diagnostic test weekly to ensure your generator is ready to start and run when needed.
KOHLER generators have been providing industry leading power for over the last 90 years and are backed by a limited 5 year warranty, 2,000-hour protection, plus a corrosion-proof enclosure that's built to last.**
**14 and 20kW models feature corrosion-proof enclosures; all other models feature corrosion-resistant enclosures.
Purchasing the Right Generator
Before purchasing a generator, it's important to evaluate your power needs and to determine the size that will best meet those needs.  It's recommended that you consult with your local generator dealer. They should be able to analyze the actual electrical
load for your home, then specify and install the generator that best fits your needs.
For more information check out these helpful links: