Choosing between a geothermal repair or replacement?  When you're faced with this choice, it's beneficial to first consider which major components we see failing today on the older geothermal units.  We've seen the most trouble with
compressor failures, air coil leaks & TXV's; worst case scenario – all at once.  While it usually makes the most sense for homeowners to upgrade when there is a failure, here at Rabe Hardware, we encourage homeowners to upgrade while they still
have a chance to take advantage of the huge savings that are available.
Planning to replace your current geothermal system now, before the expiration of tax credits in 2016;  you'll save anywhere from 40-60% off the price of a brand new GeoComfort geothermal system. Not only
will you see greater efficiency and increased reliability in this system but you'll also gain piece of mind knowing that each unit comes with our standard 10 Year Parts & Labor Warranty; plus the GeoComfort Limited Lifetime Compressor & Air
Coil Warranty.­
Current Cost to Fix Major Components:
Compressor = $2,800-$3,200
Air Coils = $1,800-$2,200
TXV's = $750-$1000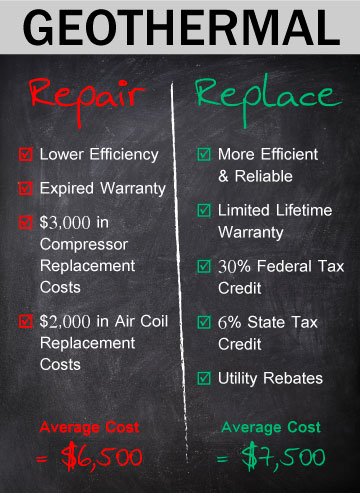 With all of the incentives that are currently being offered, you can get a new GeoComfort unit for around the same cost as the replacement parts.  The average geothermal upgrade today has a Net Cost of
$4,000 to $7,500 after the tax credits, utility rebates & geothermal cash back promo.
Rabe Hardware customers may also elect to take advantage of our 12 month Same-as-Cash financing which allows homeowners to upgrade without paying a dime for a full year!