LED Lighting: "LEDs, or light-emitting diodes, are semiconductor devices that produce visible light when an electrical current is passed through them."  (http://www.energystar.gov/index.cfm?c=ligh)
LED lighting is a type of Solid-State Lighting (SSL), which is extremely energy-efficient. When first developed, LEDs were limited to single-bulb use in applications such as instrument panels, electronics, penlights, and more recently, strings of indoor
and outdoor Christmas lights. In the last few years, LEDs have become more widespread and are being incorporated into bulbs and fixtures for general lighting applications.
LEDs are small and provide unique design opportunities. A significant feature of LEDs is that the light is directional, as opposed to incandescent bulbs which spread the light more spherically.  This is an advantage with recessed lighting or under-cabinet
lighting. There are several new LED bulb designs that address the directional limitation by using diffuser lenses and reflectors to disperse the light more like an incandescent bulb. LEDs may soon become the standard for most lighting needs as we
continue to see these types of new developments.
Benefits of LED Light Bulbs
Long-lasting – LED bulbs last up to 10 times as long as compact fluorescents, and far longer than typical incandescents.
Durable – Since LEDs do not have a filament, they are not damaged under circumstances when a regular incandescent bulb would be broken.
Cool – These bulbs do not cause heat build-up; LEDs produce 3.4 btu's/hour, compared to 85 for incandescent bulbs. Common incandescent bulbs get hot and contribute to heat build-up in a room. LEDs prevent this heat build-up, thereby
helping to reduce air conditioning costs in the home.
Mercury-free – No mercury is used in the manufacturing of LEDs.
More Efficient – LED light bulbs use only 2-17 watts of electricity (1/3rd to 1/30th of Incandescent or CFL). LED bulbs used in fixtures inside the home save electricity, remain cool, and save money on replacement costs since LED bulbs
last so long.
Cost-effective – Although LEDs are initially expensive, the cost is recouped over time and in battery savings. LED bulb use was first adopted commercially, where maintenance and replacement costs are expensive. But the cost of new
LED bulbs has gone down considerably in the last few years and continues to go down.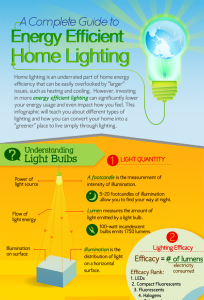 Low Power Requirement – Because of the low power requirement, LED light bulbs are also ideal for use with small portable generators which homeowners use for backup power in emergencies.
Common LED Bulb Styles
Diffused Bulbs: In this style LED bulb, light is spread out over a wider area.  Available in standard Edison bases, these bulbs have many uses, such as area lighting for rooms, porches, reading lamps, accent lamps, hallways and low-light
applications where lights remain on for extended periods.
Dimmable Globe LED Bulbs: Designed for bathroom vanities or anywhere a globe bulb is required, these bulbs produce light equivalent to a 40-watt incandescent bulb, yet only consume 10 watts of power. Dimmable from 100% to 10%, these
bulbs have a 200-degree beam angle to cast light in a wide area.
Track Lighting, Pin Base: Available in MR-16 (pin base), LEDs are ideal for track lighting, and their long life reduces the frequency of changing bulbs.
Flood Reflector LEDs for Recessed Cans and Track Lights: Screw-in base LEDs are now available for standard recessed lighting pots and housings. They range from 7.5 to 17watts and several models are dimmable. Their long life reduces
the frequency of changing bulbs.
Flame Tip, Candelabra Base LEDs: Designed to replace incandescent candelabra bulbs, these flame tip LEDs deliver the equivalent light of 25 – 35 watt incandescents.
LED Tube Lights: Designed to replace fluorescent tube bulbs, these LED tubes are available in 8 and 16 watts, which replace traditional 25-watt and 40-watt T8/T10/T12 fluorescent tubes. Their long life reduces the frequency of changing
bulbs.
EnergyStar.gov. (July, 2013). Learn About LEDs. Retrieved from http://www.energystar.gov/index.cfm?c=lighting.pr_what_are