(GREENVILLE, IL – June 1, 2013) – Enertech Global, manufacturer of GeoComfort geothermal heating and cooling systems, hosted its annual Dealer Meeting April  23-24, in Dubuque, Iowa. Attendees experienced a great event with access to industry information,
corporate updates, and celebrated its top dealers from 2012. Rabe Hardware was one such dealer recognized by Enertech Global for their dedication and sales achievements last year.
Rabe Hardware is located in Blairstown, Iowa, and received their sales award for being one of the top GeoComfort dealers in an eight state territory. They offer the complete line of GeoComfort geothermal equipment and accessories for residential and commercial
heating, cooling and hot water comfort systems and have over 17 years of experience installing and servicing these systems.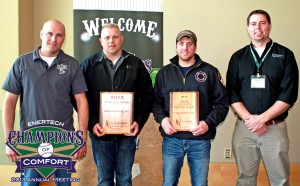 "We are extremely proud of all our award winners who are going above and beyond, providing quality geothermal systems to their customers," said Steve Smith, President of Enertech Global. "They've made the commitment to educate themselves, learn the equipment, and install each and every unit to create the ultimate comfort experience for the homeowner."
GeoComfort geothermal units are designed to harness the earth's natural energy for heating and cooling. For years, value-conscious homeowners have been discovering the advantages of heating and cooling with geothermal energy using GeoComfort products.
Geothermal systems are highly energy-efficient, since they require a relatively small amount of electricity to harness the renewable energy in the earth. GeoComfort units typically deliver up to four times more energy than they consume, so homeowners
save on their monthly energy bills when compared to conventional heating and cooling systems. The federal government is also offering a 30% tax credit for the entire cost of installing a GeoComfort system that is registered on ENERGY STAR's approved
product list. For more information, contact Rabe Hardware at 319-454-6514 or visit www.rabehardware.com.
About Enertech Global: Enertech Global is a leading manufacturer and visionary in the geothermal heating and cooling industry. With corporate headquarters in Greenville, IL, and production facilities in Mitchell, SD, Enertech Global's award winning products are proudly made in the heart of America and are distributed throughout the United States and Canada. The company's product lines consist of GeoComfort®, Hydron Module®, and TETCO® brands. For more information, visit online at http://www.enertechgeo.com.