Prepare yourself for skyrocketing heat bills this winter.
According to the US Energy Information Administration (EIA), home heating bills are expected to jump more than 50% compared to last year. Due to recent supply and demand issues, prices for propane, heating oil, natural gas and other fuels are surging worldwide. When you couple this with a colder than average winter forecast, homeowners can expect to feel the pinch in their pocketbooks.
Current projections, as described by the EIA, show an increase in every primary heating source with the sharpest increases effecting homes that heat with propane, heating oil and natural gas. While homeowners that heat with electricity are in a much better position, they too will see a slight increase on their heating bills.
Winter 2021-2022 projected household heating cost increases by heat source:
Propane will spend 54%
Heating Oil will spend 43%
Natural Gas will spend 30%
Electricity will spend 6%
So what can you do about it? 
The best thing you can do is replace your old heating equipment with a more efficient version. Furnaces today are more energy efficient than furnaces installed a mere 15 years ago. For example, a 20-year-old furnace may have an efficiency rating around 80%. That means 20% of the heat generated is wasted. It goes right up the flue and out the chimney! Today's modern, high-efficiency furnaces range in efficiency from 95%-99% resulting in remarkably less energy wasted and substantial savings on heating bills.
If rising heat costs have you concerned and your furnace is 16 years or older, it's time to replace it! Not only will it help ease the pain of energy rate hikes now and into the future, you'll also benefit from improved comfort, reliability, fewer repairs, and a longer furnace life.
Curious what you could save on heating costs when you upgrade to a more efficient heating system?
A good way to understand the cost benefits of upgrading your heating system is to compare the difference in efficiency operating costs. To assist you, check out our Efficiency Cost Comparison Chart below…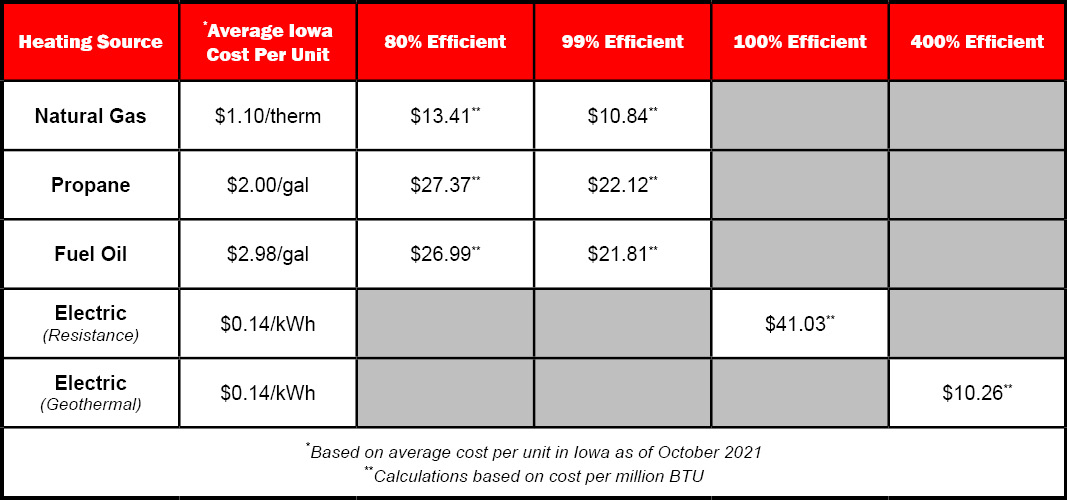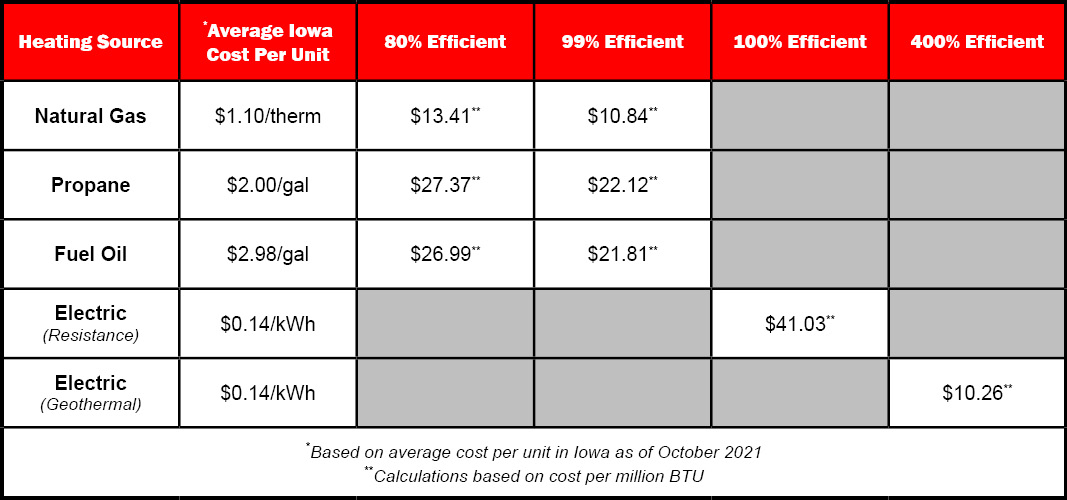 Which high-efficiency heating system is right for you?
High Efficiency Gas Furnaces: Lennox offers some of the industry's most efficient heating systems, including the SLP99V which boosts an 99% efficiency rating (AFUE). It uses exclusive Precise Comfort® technology to significantly reduce heating costs by hundreds of dollars a year, compared to an older or less-efficient furnace.
Air Source Heat Pumps: Extremely quiet and exceptionally efficient, Lennox heat pumps deliver industry-leading efficiencies up to 23.50 SEER and 10.20 HSPF which can help save you hundreds of dollars every year in utility costs. For maximum flexibility and energy savings, single fuel and dual fuel models are available.
GeoComfort Geothermal System: Also known as Ground Source Heat Pumps, geothermal systems represent the leading edge in energy efficient products. These systems are 100% electric, operate at 400% efficiency with a HSPF rating of 13 and are designed to provide maximum comfort for the least amount of energy.
Get your free furnace upgrade estimate today!
Rabe Hardware's experienced comfort consultants provide free, upfront estimates on high efficiency heating systems that provide reliable comfort and energy savings for years to come. Contact us today to learn more about the right energy efficiency upgrade options for you.
References:
U.S. Energy Information Administration. (2021, October 14). Shortterm Energy Analysis. Winter Fuels Outlook. https://www.eia.gov/outlooks/steo/report/WinterFuels.php