RABE HARDWARE ANNOUNCES 2015 OLDEST FURNACE CONTEST WINNER
One lucky Eastern Iowa resident wins a free energy-efficient Lennox furnace.
Rabe Hardware, Eastern Iowa's most trusted residential and commercial mechanical contractor, has declared a winner in the company's "Oldest Furnace Contest."  The promotion, which ran in conjunction with Rabe Hardware's "Vinton Showroom Grand Reopening", offered a new high-efficiency Lennox furnace to a homeowner with the oldest functioning residential furnace in Eastern Iowa.  The company is now proud to announce Dave Manternach, a resident of Watkins, as the 2015 contest winner.
"We're pleased to offer Dave this new Lennox SLP98 furnace that is not only 98 percent efficient but will also provide clean, consistent heating for many years to come." said Jake Rabe, owner of Rabe Hardware.
The contest which ran from November 20, 2015 to December 31st, 2015 serves a dual purpose by providing a homeowner in need with a quality Lennox furnace as well as eliminating an old, inefficient furnace from the community.  Participants were required to submit their entry online at rabehardware.com with the make, model and unit's serial number along with a picture of the furnace's nameplate.  Manternach was determined to be the winner January 1, 2016 with his Rheem fuel oil furnace clocking in at 59 years old. Rabe Hardware's specialists installed the new furnace, air purifier and thermostat on February 4, 2016.
Homeowner, Dave Manternach says "Everything is wonderful.  There's a drastic difference between the fuel oil furnace and the new one.  It's quiet and you can tell there is more even heating throughout the entire house."
Thanks to Rabe Hardware's "Oldest Furnace Contest", Manternach will be warmer this winter and the area will be a little greener too.
Manternach's 59 Year Old Rheem Furnace Before Pictures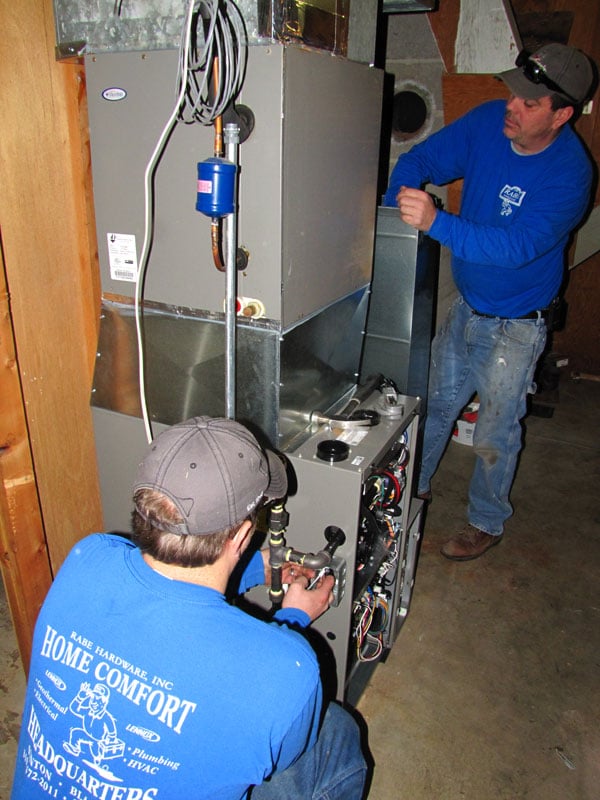 ***WINNER*** Dave Manternach with new Lennox Furnace


Since 1979 Rabe Hardware has been Iowa's most trusted contractor for quality residential and commercial geothermal, HVAC, plumbing, electrical and fireplace products and services.  Licensed and insured they specialize in: sales, design and installation.  Rabe Hardware offers service and repair of all makes and models, professionally trained technicians and installers, same-day service, warranties and financing options.