If you ask most any Midwesterner about winter, chances are they'll tell you about joyful memories filled with snowforts, sledding and neighborhood snowball fights;  but don't forget, winter isn't always fluff and fantasy.  The dark side of winter is cold
and miserable filled with back breaking chores like snow shoveling.  The mere thought of bundling up and risking life and limb on slippery surfaces is enough to send most any Midwesterner running for their long underwear and a cozy spot next to the
fireplace.  Thanks to advances in the HVAC industry, there are innovative solutions for homeowners who are looking to spend their winter months worry-free.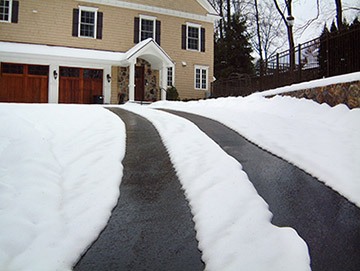 If you live in a cold region that requires snow removal, you should consider
installing an environmentally friendly, hydronic radiant snowmelt system.  You'll NEVER have to shovel snow again!  Installing a radiant heating system under your driveway and sidewalks is a safe and convenient way to remove snow.  You'll also gain
peace of mind knowing that your driveway will be automatically cleared, regardless of the weather conditions. Radiant snowmelt applications not only add value to homes and businesses but they'll also help preserve the life of your driveway, and avoid
damage to the bordering landscape by eliminating the use of harmful salts and snowmelt chemicals.
Hydronic radiant snowmelt systems pump and circulate a mixture of hot water and propylene glycol (anti-freeze) through closed-loop tubing that is installed in the pavement or under pavers.  The embedded heating elements of the system will generate enough
heat to warm the driveway or sidewalk and eliminate any snow accumulation.  Many installers will also recommend automating the system with a snowmelt control and sensor that uses optics, rather than the typical metal On/Off components, to sense the
presence of snow or ice and adjusts accordingly.
In recent years, the HVAC industry has seen radiant snowmelt systems increase in popularity because of affordability, greater effectiveness and efficiency.  In general, hydronic radiant snowmelt systems are more affordable to operate than electric radiant
systems.  The heated liquid that circulates through the hydronic system will maintain its heat for longer periods of time after the boiler shuts down, thus improving the system's efficiency.  The cost to install a system is unique to each installation
and is based on factors like; soil composition, square footage and the type of material being heated.
It's finally time to embrace those childhood memories and once again delight in the joys of the season.  Say 'sayonara' to the shovel and 'yes' to a hydronic radiant snowmelt system.  Snow removal will never look better!