It's always better to stop problems before they start, and when it comes to your homes heating system, you don't want to be left in the cold.  An annual furnace inspection and tune-up, performed by a licensed and qualified HVAC technician, will ensure your system is clean, safe and performing at maximum efficiency. Taking the time to schedule a tune-up this Fall, even if you think your system is fine, can help detect any small problems before they turn into inconvenient and costly repairs.
Annual Furnace Inspection & Tune-up:  Why It's Important
Ensure that your furnace operates safely
Fuel-burning furnaces (natural gas, oil, etc.) tend to release carbon monoxide in their exhaust. When the furnace is working properly, this gas is channeled out of the home through an exhaust pipe. But leaks happen, and a carbon monoxide leak is dangerous because that particular gas is odorless and deadly. A licensed professional will test the furnace for leaks as part of routine maintenance.
Neglected, dirty filters can release mold spores and other toxic airborne particles into your home, causing respiratory problems and disease. A well-maintained system improves the indoor air quality and helps prevent such problems from occurring.
Ensure your furnace runs smoothly
A furnace tune-up will reduce wear-and-tear on your heating system during the Winter months.  During routine maintenance, our experienced technician will inspect parts, replace ones that have worn out, lubricate components where necessary, check the unit's electrical and so on. If an issue is detected, the technician will provide you with a diagnosis and suggest a remedy.
Improve system efficiency, life expectancy & save money
General rule-of-thumb: an unmaintained furnace is an inefficient furnace. From dirty filters to dirty furnaces, dust and dirt can prevent the efficient flow of air. This makes your furnace work harder and longer than it has too to heat, decreasing the furnace's efficiency.  This not only increases heating costs but it also shortens the systems life expectancy.
Detect problems early . . . before a breakdown
A furnace tune-up allows our technicians to find small issues before they become major problems later on in the Winter. This timely resolution means that your furnace has a clean bill of health entering the coldest months of the year and keeps the furnace working reliably.
Keep your system's warranty intact
Most furnace warranties require you to have an annual tune-up performed on your system in order for the warranty to remain valid. That's because furnace manufacturers understand how important annual tune-ups are to the performance and longevity of your system.
Improved comfort
The technician will verify and calibrate your thermostat to make sure that the furnace is heating your home properly and reliably, at the temperature you want, when you want it.
Here's what to expect from a furnace tune-up:
Inspect the burner flames
Vacuum out the burner & blower cavities and clean away dust or debris in & around the unit
Remove the blower to clean it
Vacuum and brush the blower blades
Clean the flame sensor
Check the flue for gaps or dents and make sure it is venting properly to the outdoors
Check for any CO (Carbon Monoxide) present
Test all safety switches
Replace furnace filter
Check gas pressure
Annual Preventative Maintenance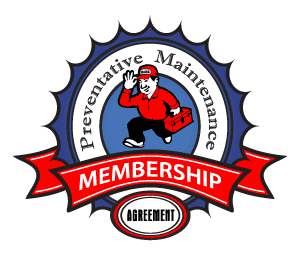 Why preventive maintenance?
Just as you maintain your car with periodic oil changes, your heating and cooling system also needs to be cleaned and checked. A dirty HVAC system may result in performance and efficiency issues that could result in higher utility bills. It's also important to be aware of the condition of your existing HVAC equipment.  A thorough inspection of your HVAC equipment may also uncover potential part failures that could be repaired proactively. Preventive maintenance may save you a service call and the inconvenience of being without heating or cooling during the year!
Rabe Hardware's Preventative Maintenance Program is designed to provide maximum efficiency and savings at a minimum cost to you!  We offer several membership options so you can pick the plan that best fits your needs.