Farmers today have many challenges to face but here in Eastern Iowa the farmers are concerned about the cost of rising fossil fuels and consequently the higher operating cost to heat their farm residence and buildings.  What many farmers may not realize
is that the solution to this challenge is geothermal technology.  In fact, the agricultural sector is an ideal candidate due to their access to sufficient amounts of land and their potential for a high return on investment. What makes a geothermal system
so attractive is the low operating cost.  The following table is a list of common fuel sources and their average annual heating costs in Iowa.  See for yourself how geothermal compares.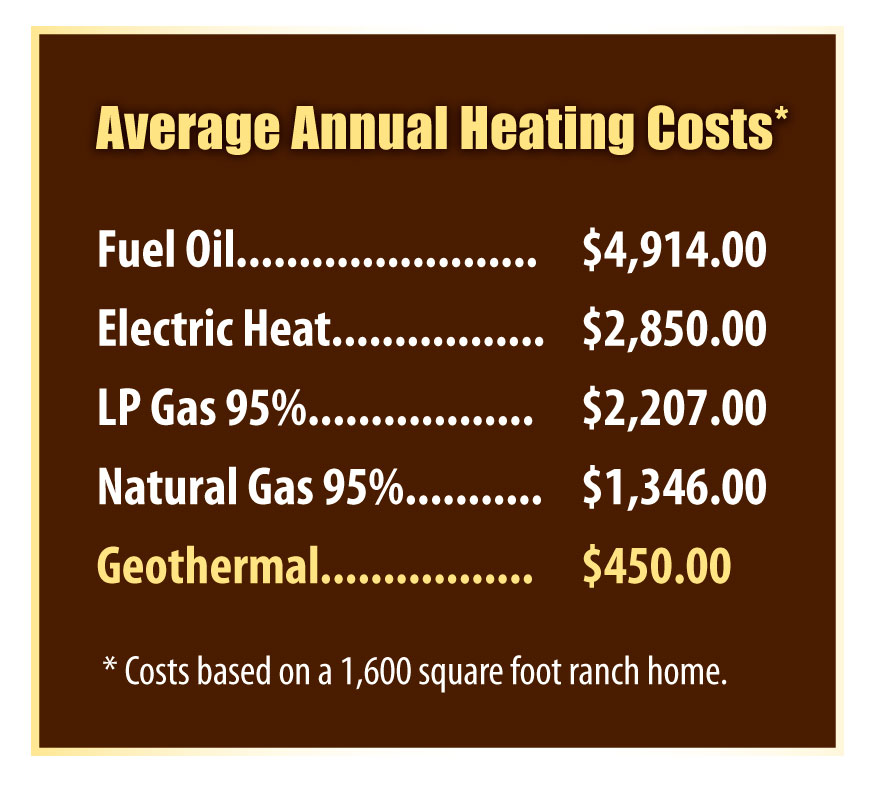 These types of systems harness and utilize the earth's thermal energy which results
in efficiencies 300-400% higher than a traditional system.  Also, geothermal systems don't burn any fossil fuels directly, and emit no toxic or unwanted gases. The only energy requirement for a geothermal heat pump system is the electricity it takes to
run the compressor and pump. This is a great safety feature of geothermal heating and cooling.  This type of system can be used as a forced air system, radiant in-floor heating system, or both and the comfort levels of geothermal systems are said to be
the very best in the industry. Another advantage of a geothermal system is that they can produce domestic hot water. A geothermal heat pump, if properly equipped, can fulfill some of a home or farm shop's hot water needs during heating and cooling cycles.
This may be very beneficial to people who have offices within their farm shops and want a bathroom with hot water for hand washing or showers. It's not easy to decide what type of system is best for a particular property owner but overall geothermal systems
are the safest, cleanest and most efficient heating and cooling systems on the market today.  Qualifying geothermal systems may be eligible for a 30% Federal Tax Credit and energy savings up to 70%.  Some states now offer a State Tax Credit and many of
your local utility companies may offer rebates. We think it's finally time for our farmers to put an end to outrageous fuel bills so they can have more money to reinvest in their farms!  What do you think?   Link to our Proud Green Home blog, A Geothermal Revolution is the Best Solution and other resources!