(GREENVILLE, IL – April 24, 2014) – Enertech Global, a manufacturer of GeoComfort geothermal heating and cooling systems, hosted its annual Dealer Meeting April 29-30, in La Crosse, WI.   Attendees experienced a great event with access to industry information, geothermal-focused breakout sessions, and celebrated its top dealers from 2013.  Rabe Hardware was one such dealer recognized by Enertech Global for its dedication and sales achievements last year.
Rabe Hardware is located in Blairstown, IA, and received its sales award for being one of the top GeoComfort dealers in a nine-state territory.  They offer the complete line of GeoComfort geothermal equipment and accessories for residential and commercial heating, cooling, and hot water comfort systems and have over 18 years of experience installing and servicing these systems.
"Our partnership with GeoComfort couldn't be any stronger.  The attention to detail, quality, and innovation of the Geothermal products they produce is exactly what customers have come to expect out of Rabe Hardware for the last 34 years," said Jake Rabe, owner of Rabe Hardware.  "Our customers want the best build, highest quality, and most reliable system available and with GeoComfort as my supplier, I can personally guarantee their satisfaction."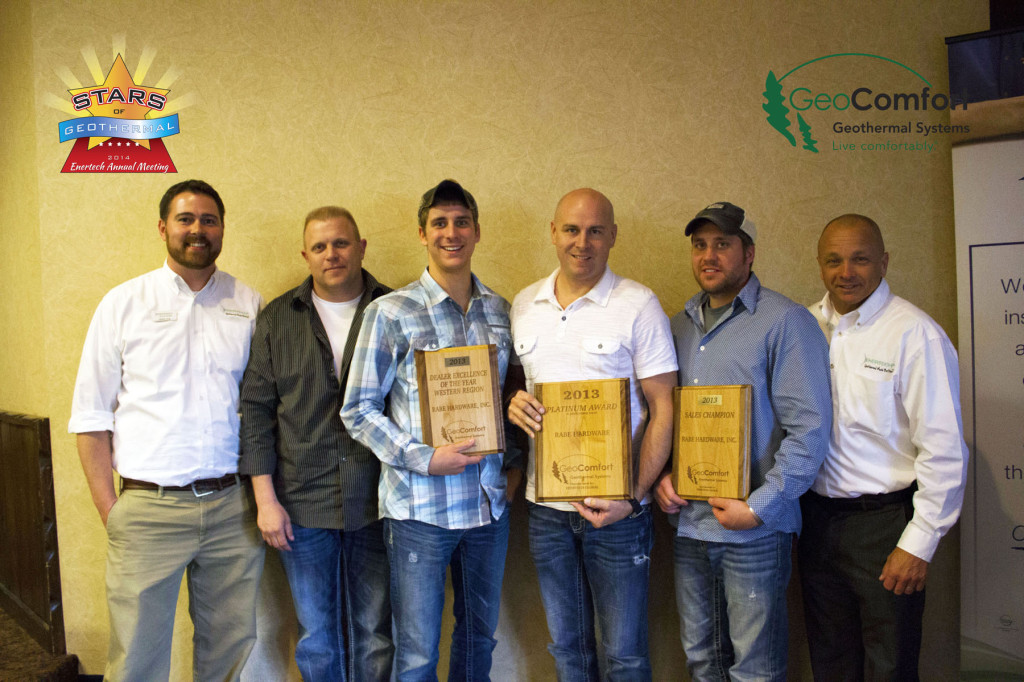 2013 GeoComfort Platinum Award,
Dealer Excellence Award &
Sales Champion Award
GeoComfort geothermal units are designed to harness the earth's natural energy for heating and cooling.  For years, value-conscious homeowners have been discovering the advantages of heating and cooling with geothermal energy using GeoComfort products.
Geothermal systems are highly energy-efficient since they require a relatively small amount of electricity to harness the renewable energy in the earth.  GeoComfort units typically deliver up to four times more energy than they consume, so homeowners save on their monthly energy bills when compared to conventional heating and cooling systems. The federal government is also offering a 30% tax credit for the entire cost of installing a GeoComfort system that is registered on ENERGY STAR's approved product list.  For more information, contact Rabe Hardware at 319-454-6514.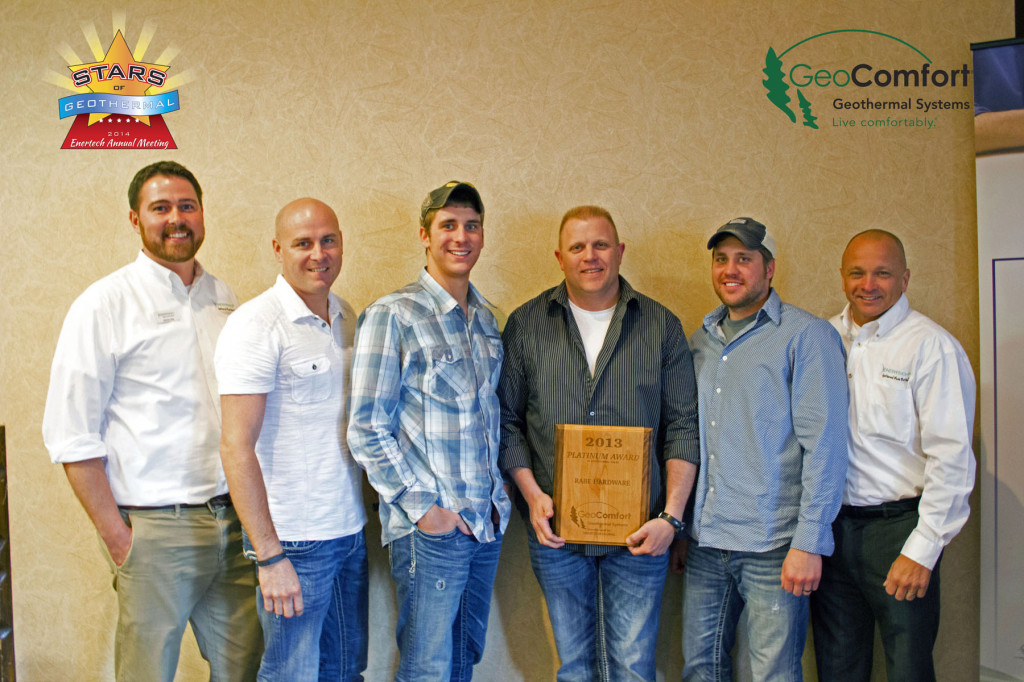 Pictured from left: Jeremy Lang, Jeff Smith, Johnny Becker, Jason "Jake" Rabe, Matt Becker & Steve Smith
About Rabe Hardware
Rabe Hardware is a family-owned and locally-operated company that has been serving residential and commercial customers in East Central Iowa since 1979. For two generations, Rabe Hardware has strived to provide geothermal, plumbing, electrical, heating, and air conditioning services that exceed expectations. Professionally trained technicians and installers, customer service, and honest, hard work are the reasons so many customers continue to call Rabe Hardware for their home comfort needs. Rabe Hardware is your home comfort headquarters!